In Memory
Albert "Big Al" Toutant (Teacher)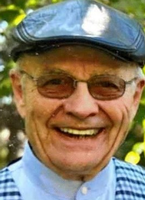 Albert "Big Al" Toutant, 86, a longtime resident of Spokane, passed away on Tuesday, September 26th, 2023, with his family at his side.

Al was born in November 1936 to S. Albert Toutant and Harriet J. (Hebert) Toutant and raised in the Motor City, Detroit MI. Before leaving to join the Air Force Al's childhood included growing up close to extended family - many of whom he stayed in contact with his entire life, becoming a pretty good pool player, and picking up a few yo-yo tricks.

Al landed in Spokane at Fairchild Air Force base and was a proud member of the "Remington Raiders". Soon after arriving in Spokane Al met Bernie, the love of his life for the next 63 years. It was during those early days with Bernie that Al developed a love for the mountains and lakes of the NW. After being honorably discharged from the Air Force, Al attended and graduated from Eastern Washington University and began his teaching career in Moses Lake, WA. After 3 years in Moses Lake, Al and Bernie - along with son Mike, and daughters Marie and Kathy - moved to Spokane where Al would begin his teaching career at Mead School District that would finish in 1997 after 30 consecutive years at Mead High School greeting his scholars "Good morning my friends and fellow Americans, what is in the news today"? During his tenure at Mead High School, Al also served as MEA President, and as a WEA lobbyist. Al also found time to end each course with a well-honed, and narrated, yo-yo exhibition. Summers were spent at Driftwood Point on Lake Coeur d'Alene, and winters skiing at Mt Spokane where Al was a member of the Mt Spokane Ski Patrol, then on to 49 Degrees North where Al was an instructor with 49 Degrees North Ski School.

In retirement Al spent his time doing what he loved - being with family, especially his 6 grandchildren; skiing, biking, boating with family and friends, and fulfilling a lifelong commitment to community activities and civic awareness. Al and Bernie also traveled extensively around the world with friends and family.

Al is survived by his wife Bernie and three children; Mike (Jean) Toutant, Marie (Jim) Meredith, and Kathy (Matt) Heaps; and six grandchildren, Geneva Heaps, Martha (Taylor) Harris, Elie Jones-Toutant, Selah Meredith, Emmett Jones-Toutant, Eva Meredith; and siblings Susie (Dick) Schlaf, Mike (Sue) Toutant, Mary Kay (Eddie) Oravec, and many other cousins, nieces, and nephews.

A Celebration of Life will be held on Saturday, November 4th, 2023 at 10:00am in the Unitarian Universalist Church of Spokane, 4340 Whistalks Way, Spokane WA 99224.

Al's family would like to thank the staff at Cornerstone Court and Spokane Hospice for treating Al with the dignity and respect he deserved.

In lieu of flowers the family suggest donations to KPBX Spokane Public Radio, the Alzheimer's Foundation of America, or Spokane Urban Forestry.
Published by Spokesman-Review on Sunday, Oct. 8, 2023.
https://www.legacy.com/us/obituaries/spokesman/name/albert-toutant-obituary?id=53291207