In Memory
Carol Lewis (Business Ed Teacher)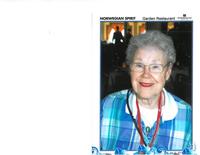 Carol Marcille (Tipke) Lewis, 87, joined Heaven's celestial choir on October 18, 2017. Carol was born July 27, 1930, in Odessa, Washington to George and Lydia A. (Brockmann) Tipke. Living in the Mead community, Carol met a young man named John Francis Lewis. He was a Mead High School graduate before entering the U.S. Navy. Carol and John were married in the fall of 1950.
Carol was a lifelong resident of the Mead area. She retired from the Mead School District after 20+ years as a business education teacher during which time she made the transition from manual typewriters and ledger books to computer labs and teaching word processing and Excel.
She was an avid sports fan and enthusiast throughout her life. Along with many other activities, she played tennis and badminton in school, and she was a long-time fixture at Mead football and basketball games during and after her teaching career. More recently she attended many Gonzaga basketball and Arena football games. She had a passion for music, singing in many choirs throughout her life, and directing church vocal and bell choirs. She also wrote the words to the current Mead High fight song in the 1970's. Along with her husband, she was the co-owner of the JC Leasing trucking firm.
She was predeceased by her parents Lydia and George Tipke and her husband, John Lewis. She is survived by her siblings Don (Shirley) Tipke and James Tipke, children Suzanne (Charles) Hawkins, Jerry Lewis, and Larry (Peggy) Lewis, seven grandchildren, two great grandchildren, and numerous nieces and nephews.
A visitation will be held on Thursday November 2, 2017, from 3:00 to 7:00 PM, at Hazen & Jaeger Funeral Home, 1306 N Monroe, Spokane, WA, 99201. A Celebration of Life service will be held on Sunday November 5 at 2:30 PM. The service will be held at Holy Cross Lutheran Church, 7307 N. Nevada Street. In lieu of flowers, memorial donations may be made to Holy Cross Lutheran Church or Hospice of Spokane. Burial at Peone Cemetery, Spokane, Washington.